Button-Down Shirts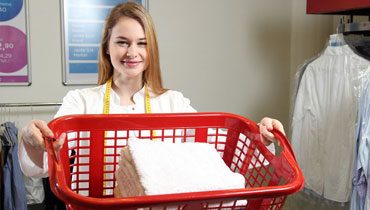 Unbutton the shirt. Unfasten all buttons, including the tiny ones at the collar, before laundering. Otherwise, the agitation in the machine and the weight of other garments may cause buttonholes to tear.

Apply a stain remover. It's a good idea to pretreat collars every time you wash them. "Once stains from body oils build up, they are very difficult to remove," says Chris Allsbrooks, a textile analyst at the Drycleaning & Laundry Institute, in Laurel, Maryland. Use a stain remover or spot-clean with a mixture of water and liquid detergent. Pour it over the area, then rub with a soft toothbrush. It's especially important to spot-clean permanent-press shirts and other items that have been treated with resins so they retain their shape, because these fabrics tend to hold soiling.

Use the permanent-press setting. Wash permanent-press shirts with all-purpose detergent on the permanent-press setting, which is gentler than the regular one, uses warm or hot water, and has a long cool-down rinse to further minimize wrinkling. Opt for the dryer's permanent-press feature, which has a cool-down period at the end. Wash non-permanent-press shirts on the regular cycle in cold or warm water.

Sweaters
Wash cotton blends on gentle. Many knits made of cotton, synthetics, or blends can be machine-washed in cold or warm water on the gentle cycle with all-purpose or mild detergent. To combat wrinkles and stiffness, dry items on low for 5 to 10 minutes before laying them flat on a mesh sweater rack or a towel.
Use a zippered pillowcase for delicates. Place a wool, cashmere, or fine cotton sweater in a zippered pillowcase; wash on the delicate cycle with cold water and lay flat to dry.
Test silk sweaters for colorfastness. Delicate knits, like crochet and silk, are a different story: Dry-clean these, or test for colorfastness (to see if the color will bleed, place a dab of detergent on a dip a cotton swab in detergent and hold it on the fabric for two minutes) and hand-wash in cold water with mild detergent. Some knits may stretch out; reshape after washing and lay flat to dry.

Socks
Never lose a sock again. One of the most frustrating aspects of doing laundry is the number of socks that suspiciously go missing. Forget putting out an APB: Simply pin each pair together before throwing it in the machine. No sorting, no matching necessary afterward.