Dry Cleaning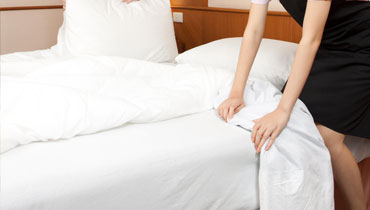 Our Dry Cleaning process provides a soft finish and keeps fabrics looking new longer and extends the life of the garment. Same day service is offered at no extra charge. We offer professional dry cleaning of all garments including:
Suits & Slacks, Shirt Laundry, Jeans, Cowboy Starched jeans, Leather, Suede, Furs, Wedding Dresses, Formal Gowns, Silk and Linen Blouses, Dresses and Sweaters
Laundry Shirt Service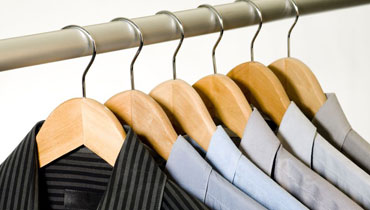 Our quality is unbeatable and your complete satisfaction is our number one goal. Cotton and cotton blend dress shirts and blouses are professionally washed and pressed.
Starch can be added if a hard finish is desired. They can be folded for travel if requested. Missing or broken buttons are replaced free of charge!
Choose Plaza Cleaners in Paso Robles or Atascadero for your laundry shirt service and you'll get shirts that look like new. Every shirt gets individually inspected to ensure the highest quality.
Professionally washed and pressed with state of the art equipment
Missing buttons are replaced free of charge
Choose your starch preference
Hangers or Folded for travel
Wash/Dry/Fold Laundry Service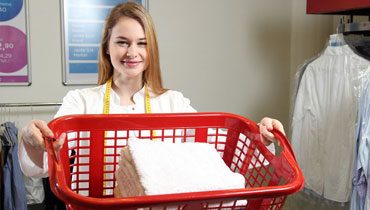 Laundry piling up? No problem. Let Plaza Cleaners wash, dry and fold your Laundry for you in Paso Robles or Atascadero.
Clothing, undergarments, towels, blankets, bedding, ect. are professionally washed, dried, folded and then packaged for convenience.
We charge by the bag. You have enough to worry about, let us help take care of your laundry needs. Don't have time to drop off your laundry? Simply leave your clothes at the doorstep and we will pick them up and drop them off for you.
Cowboy Press Jeans
We will wash and press your jeans using state of the art equipment. This is the choice for your jeans if a hard finish is desired.
Designer Handbag and Ugg Boot Cleaning
We have partnered with Universal Leather Company in Los Angeles California.
Alterations
We have a professional seamstress available for minor repairs or custom fittings. Our professional clothing alterations are done very timely.
Household Items
Drapes, Comforters, Blankets, Tablecloths; At Plaza Cleaners we professionally clean and press draperies, comforters, quilts, tablecloths and napkins. We understand these items are an investment, and take great care to preserve and protect their vibrancy.
Drapes, Comforters, Quilts, Blankets, Tablecloths, Napkins, Pillows, Area Rugs
Pick Up and Delivery Service
Free Pick Up & Delivery service